MAYORAL CHAIN
9 October – 28 November
Alexi Freeman and Tessa Blazey, Anna Davern, Anna Varendorff, Claire McArdle, Kate Rohde, Marcos Guzman, Maree Clarke, Pennie Jagiello and Roseanne Bartley.
Inspired by the craftsmanship and legacy integral to the Mayoral Chain this exhibition unpacks traditional ways of making and traditional ceremonies within contemporary society. Historically town metalsmiths and the use of precious materials (such as gold) were commonplace in the production of ceremonial objects, today however jewellers use a larger array of materials to create objects that are embedded with symbols and ideas that reflect civic and personal pride. The Mayoral Chain is one of the last great ornate pieces of civic ceremonial costume that conveys many layers of history, status and community pride. Today's traditional ceremonies rarely attract such elaborate adornments but the relationship exists particularly through the craftsmanship employed. Mayoral Chain, the exhibition, discusses the ways in which contemporary society has morphed the traditions of ceremonial jewellery into contemporary adornments.
10 contemporary Melbourne artists respond to the traditional Mayoral Chain, producing artworks that explore notions of grandeur and responsibility through materials and processes. The exhibition will include installations that challenge ideas surrounding wearability while interactive works question preciousness of material and production. The exhibition will also display more traditional responses to the Mayoral Chain that reflect technique and history.
Craft as a discipline has a history of enormous social and political power, this exhibition enables Victorian makers to make comment on the ways of making, progress in technology and industry and to discuss the social status of adornment through jewellery.
Above image by Alexi Freeman and Tessa Blazey. Photographer: Marija Ivkovic.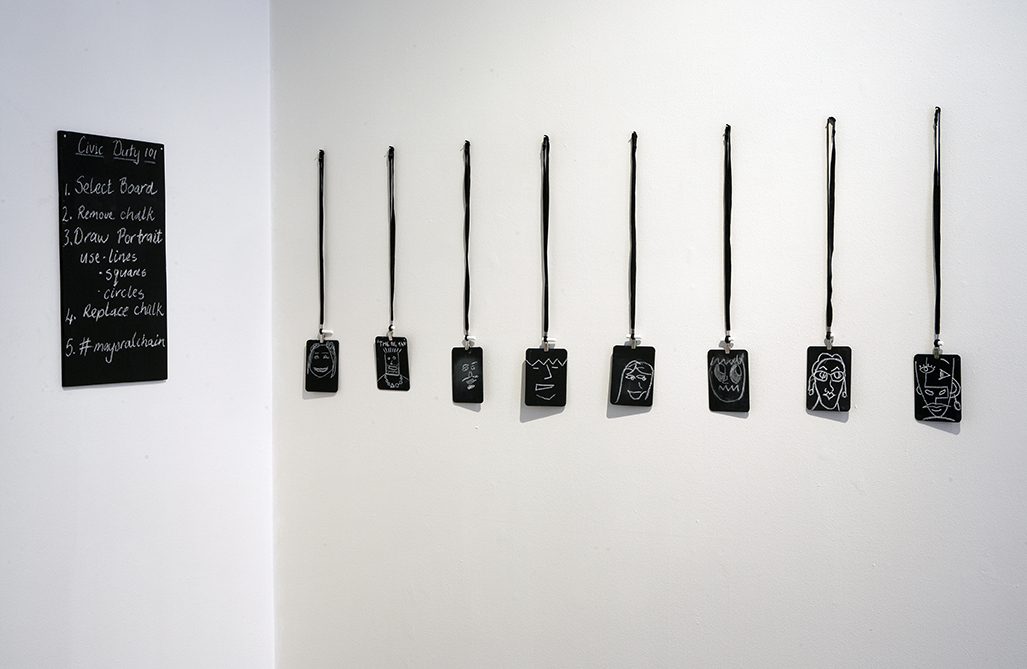 Alexi Freeman and Tessa Blazey
Jeweller Tessa Blazey and fashion designer Alexi Freeman share a love of Science Fiction and geometry and collaborate on experimental wearable sculptures utilising jewellery construction techniques and processes. Their first major collaborationNeo Lace Gown was a finalist in the Powerhouse Museum International Lace Award (2011) and since then the duo have been commissioned to produce several other works.
These works include: Interstellar Gown for I'll Show You My Craft If You Show Me Yours (2012) at Craft Victoria, Relic Dress forCosmic Artefacts (2013) at Pieces of Eight and also for Melbourne Now (2014) at the National Gallery of Victoria, Gown of Shadows forSignature Style (2014) at Craft Victoria and their Gold Neo Lace Caplet was a private commission from the first lady of MONA (2014).
Anna Davern
Anna Davern completed her undergraduate degree in Jewellery and Object Design at Sydney College of the Arts in 1993. She gained her subsequent Masters degree in Gold and Silversmithing from RMIT in 2003. In 20 years of practice, Davern has held three solo exhibitions at Craft Victoria and has been represented in numerous Australian and international solo and group exhibitions including a recent survey of Australian art at the Museum Of Contemporary Art, Taipei. In 2011 she co-founded Northcity4, an ARI that provides professional and creative opportunities to the Australian contemporary jewellery community. She has been the recipient of grants from the Australia Council, Arts Victoria and NAVA and in 2007 she undertook a residency at the Estonian Academy of Art. Davern has taught and lectured at universities and TAFEs in Australia and at the Estonian Academy of Art. Anna Davern's practice straddles the visual arts, jewellery, fashion and education.
She teaches, writes, curates and primarily makes jewellery and objects from the Northcity4 studios in Brunswick, Melbourne.
Anna Varendorff
Anna Varendorff's practice employs objects of use and interaction both small and large scale. Her work is concerned with inclusivity, play and interrupting historical narrative, predominantly using the mechanisms of jewellery, sound installation and spatial sculpture. Anna attained her Bachelor of Fine Arts (Gold and Silversmithing) at the Queensland College of Art, Griffith University, and has completed a Masters of Fine Art at Monash University. She exhibits extensively, most recently in Reflections with Meredith Turnbull, Bouba with Haima Marriott, and Affine Approximation with Benjamin Portas.
Claire McArdle
Claire McArdle began an education in Gold & Silversmithing in 2007 at RMIT University. She travelled to Estonia for a semester of her Honours year after which she decided to curate an exhibition of Estonian and Australian contemporary jewellery and objects, Words and Works from a World Away. This exhibition was held in Melbourne in 2013 and travelled to The Estonian Museum of Applied Art and Design at the end of 2014. The accompanying book included several essays in Estonian and English.
Claire has held six solo exhibitions and her work has been exhibited internationally in Thailand, Hong Kong, USA, United Kingdom, Germany, France, Austria and The Netherlands. She has undertaken residencies in Australia, Mexico, Iceland and Estonia and won first prize at Contemporary Wearables '13. Her seventh solo exhibition,Oaxaca Experiencia, took place in September. She holds a studio in Melbourne.
Claire is also the Co-Director of Radiant Pavilion, the inaugural biannual contemporary jewellery and object trail that took place in Melbourne September 2015.
Kate Rohde
Having completed a Bachelor of Fine Arts (Honours) at the Victorian College of the Arts in 2001, I have held several solo exhibitions and been involved in numerous group shows, Since 2010 my practice has expanded to encompass jewellery and design projects. My practice has utilised an extensive range of craft and hardware materials, including silicone, expanding foam, fake fur, various resins and rice paper. More recently I have been working mainly with resin, the base material of plastic. My aim is to take one of the most mundane and pervasive materials of the 20th century and transform it into something as precious and far from throw away as possible. Across a number of years I have created a collection of zoological, botanical and geological inspired pieces and installations, which rather than factually representing natural history, take a more playful, decorative approach. Coupled with this interest in natural history, I have been incorporating decorative elements typical of Baroque and Rococo style over the last several years, drawing particularly on the decorative arts and interior design of this era. The highly ornate nature reveals on closer inspection that much of the patterning is drawn from flora and fauna sources.
Rohde's exhibitions include but are not limited to Golden Age (2015 Pieces of Eight (Melbourne); Atlantis (2012, Melbourne Art Fair, Karen Woodbury Gallery stand, Melbourne); 21st Century Heide (2015, Heide Museum of Modern Art, Victoria). Rohde is also a Finalist in the 2015 Rigg Design Prize at National Gallery of Victoria.
Marcos Guzman
Marcos Guzman is an emerging artist living in Melbourne. He graduated with honours at RMIT and was awarded the Maggie Fairweather Residency in 2013. Marcos has exhibited nationally and internationally, including in Galerie Marzee's International Graduate Show 2011, Fresh! 2014, in which he won the inaugural Lightly Mentorship Award, and was a finalist in the inaugural Mari Funaki Award for Contemporary Jewellery at Gallery Funaki in 2014. Most recently Marcos exhibited in Carousel, an exhibition showcasing the works of national and international emerging contemporary jewellery and object artists as part of the inaugural Radiant Pavilion Festival 2015.
Maree Clarke
Maree Clarke, a Mutti Mutti, Yorta Yorta, BoonWurrung woman from Mildura in northwest Victoria, is a multi disciplinary artist living and working in Melbourne.
Maree Clarke is a pivotal figure in the reclamation of southeast Australian Aboriginal art practices, reviving elements of Aboriginal culture that were lost over the period of colonisation. Maree's continuing desire to affirm and reconnect with her cultural heritage has seen her revivification of the traditional possum skin cloaks, together with the production of contemporary designs of kangaroo teeth necklaces, and string headbands adorned with kangaroo teeth and echidna quills.
Maree Clarke's multi media installations of photography, painting and sculpture further explore the rituals and ceremonies of her ancestors.
Pennie Jagiello
These pieces are part of my ongoing research that explores anthropogenic marine debris investigated through jewellery and objects. My work is informed by the infiltration of the unnatural remains of our built environment within natural environs, the crossover within them and how we are fused in between. All materials used have been found and collected across Melbourne and Victoria from bays to beaches and immediate coastal surrounds, with no other materials added. These random materials determine what I make and the techniques and processes employed. I am aware certain techniques can create more debris therefore these remnants are retained, becoming part of the work so I am not creating more debris. The decision to only work with found materials incites challenges within my practice while highlighting the impacts we have upon the environment.
Pennie Jagiello is a current candidate in the Masters of Fine Art practice based research at RMIT following a Bachelor of Fine Art Sculpture at VCA in 1995. She is currently part of a residency in the Pilbara with FORM Gallery, which has seen her research expand over three expeditions as part of an extensive project that will tour across Australia in 2016. Pennie is currently represented by six galleries, and has held numerous solo and group exhibitions around Australia. In 2004 Pennie was the recipient of the Australia Council Crafts Mentorship, as well as various jewellery award exhibitions. She has run workshops throughout Australia during her twenty year practice, and represented Australia at the Waste to Wealth Festival in Kuwait City in 2013.
Roseanne Bartley
Roseanne Bartley explores the social, performative and spatial capacity of jewellery through performance, small-scale events and accessories. She is interested in the intersection between the private and social space of jewellery and in proposing an instrumental role of jewellery to address contemporary situations.
Bartley has been awarded numerous grants including the Australia Council Barcelona Studio in 2004 and Australia Council New Work Grants in 2001, 2006 and 2012. Her work has been selected for national and international exhibitions, most recently Unexpected Pleasures, NGV and Design Museum, UK (2012-13); Melbourne Now, NGV (2013–14); and Suspended in Green, Vienna and Munich (2014). She is currently enrolled as a PhD candidate in the School of Architecture and Design at RMIT and a sessional lecturer at RMIT and Monash Universtities.